Welcome to St John Saint Lucia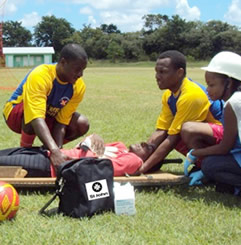 St John Ambulance Saint Lucia is a self-funding charitable organisation, dedicated to helping people in sickness, distress, suffering or danger. As Saint Lucia's standard for excellence in first aid and CPR services, St John Ambulance plays an integral role in our society offering innovative programs and products, ensuring Saint Lucians receive the best quality training and expertise.
First Aid saves lives - its that simple. During emergencies, it is vital that you have the right knowledge and skills to help your family, friends and colleagues. Seconds really do count.
St John Saint Lucia  provides the highest quality training in first aid, disaster preparedness, CPR and much more! We also provide first aid cover at events - so you can be sure of the safety of those attending. As a charitable organisation, we provide vital support services and health awareness to communities around St Lucia.
Contact us today to book your course or to get involved and volunteer with us!